Product Summary
Creates a thick foam when using it with soaps, Approved for auto, RV, marine detailing agriculture, and home cleaning.

Throws thick foam onto your vehicle, house, fence, sidewalk, roof, or other washable items.

Works with Pressure Washers up to 4500 PSI.
1 Lite capacity.
Package included:
(1) Foam Cannon Bottle with a black adjustable nozzle with an air intake valve (1) Universal 1/4-inch Quick Connect Adapter.
(1) Hose Tube (to reach the bottom of the bottle)
(1) Bottle: The bottle holds 1 liter (33.814 ounces)
(1) 5 Color Spray Nozzle Tips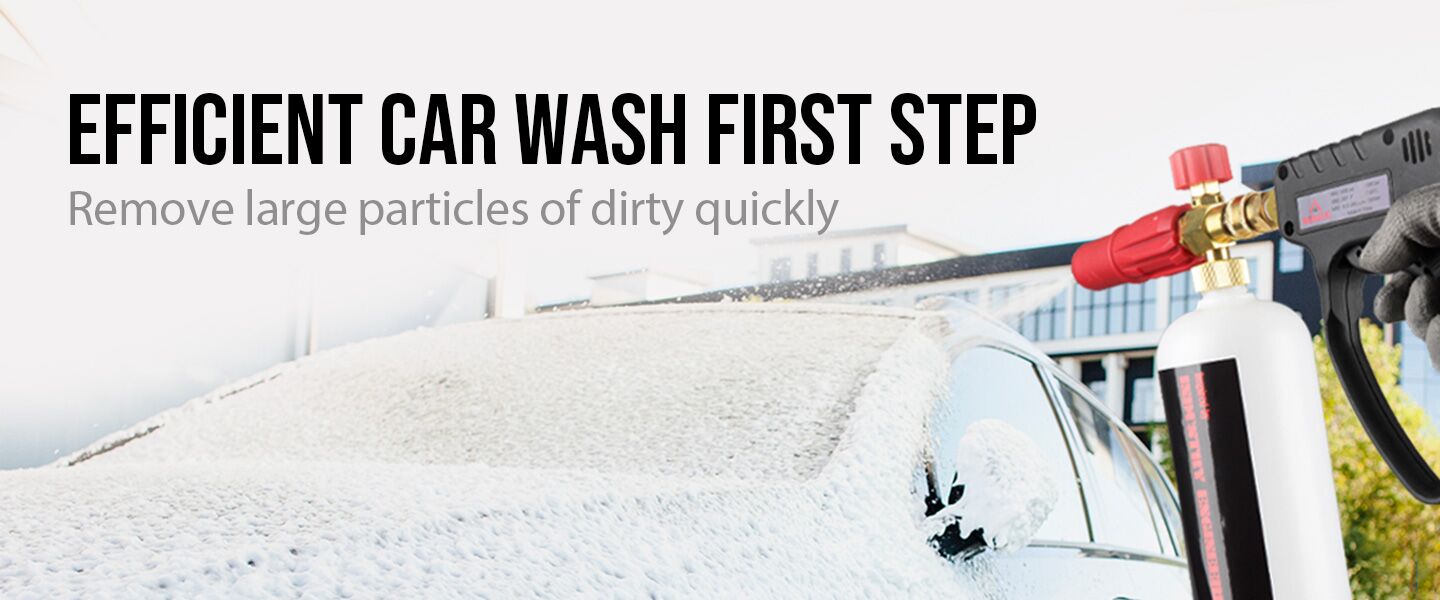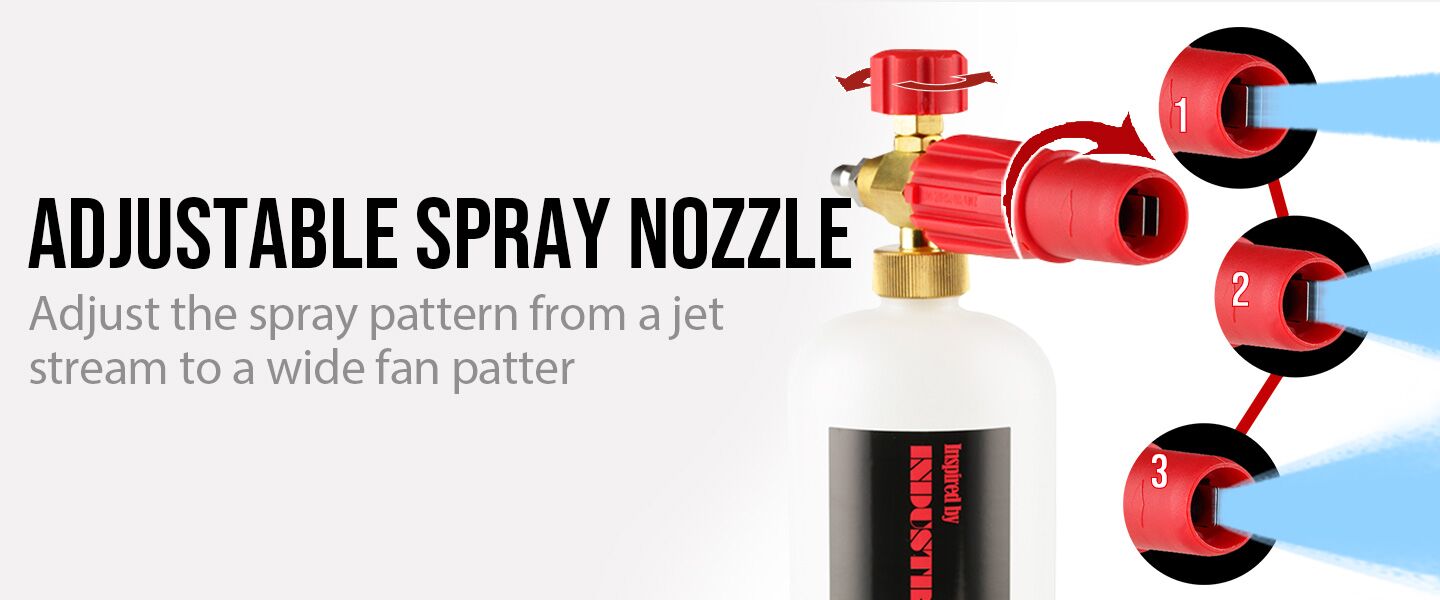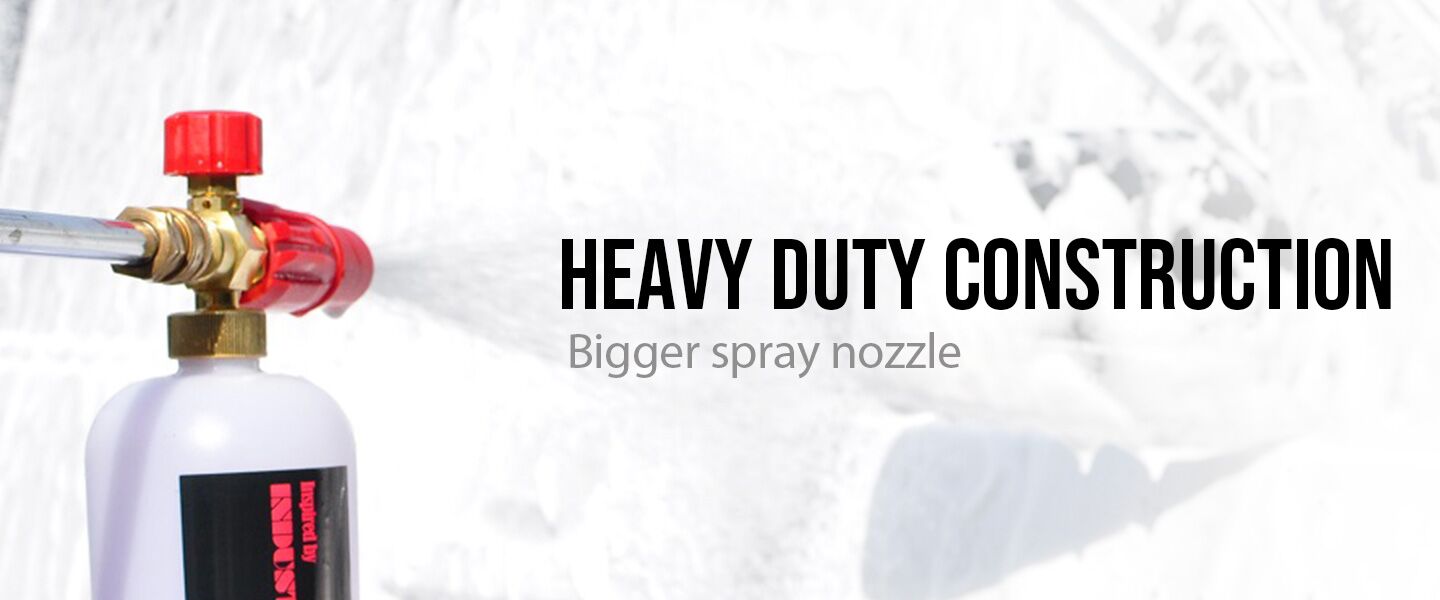 Shipping Policy:
We provide customers with a policy of free shipping.

Free Shipping: 3-5 business days

Expedited Shipping: 1-2 business days

Additional shipping options are also available through our website. If you choose to expedite your shipment, shipping fees will apply.

When your order ships we will notify you via email. Be sure to reach out to us if anything seems unusual with the progress of your shipment.

Our free standard shipping offer is available in the contiguous United States only. Orders shipped to Alaska, Hawaii, Puerto Rico, or international addresses do not qualify. The shipping provider for standard shipping is selected at YAMATIC's discretion.

Returns Policy:
YAMATIC POWER CENTER Products is committed to building quality and reliable tools that provide dependability for years to come. Our return policy is consistent with this dedication to quality, If you are not completely satisfied with your purchase at our website, you may return those items within 30 days of receiving your shipment to receive a full refund or receive an Instant Credit (up to you). So long as it is not broken or damaged as a result of using it.
After we receive your returned item, we will notify you that we have received it and inspect it to ensure that it is not broken or damaged. Once we have confirmed that the item is not broken or damaged and is in acceptable condition, we will issue your refund. Your refund should process within 1-3 business days.
After 30 days, if you have any questions, don't hesitate to get in touch with us directly.

*A return shipping fee will not be deducted if you return damaged, defective products or an item shipped to you incorrectly.

Tel: 626-539-9666
Email: yamaticpower@gmail.com
PRESSURE WASHER PUMPS:
1. What pump do I need?
Share the OEM part number of the original pump and pressure washer brand with us, YAMATIC will confirm that for you.

2. How to install the pump?
Please check the video of the product above this page, it shows how to install a pump correctly.

3. Why Engine losing pressure?
The engine/motor hasn't enough power for the pump, try to adjust the pressure of the pump to fit your engine closer.

4. Do I need to add extra oil?
No, it is pre-filled with oil inside and has a double seal system.

5. Do I need to replace the oil?
No, it is designed for lifetime running, and no need to replace it.

FOAM CANNON:
1. How to use Snow Foam Lance correctly :
1). Fill the bottle with hot/warm water before adding soap. This helps your solution mix together.
2). Adjust the spray nozzle first to find the stream of water that works for you so that it sprays in a decent fan pattern.
3). Adjust the knob on the top to control how much water is mixed in. The minus (-) sign indicates less water (so more foam is produced), and the (+) indicates more water (so less foam is produced). DO NOT max out the knob onto the (-) side otherwise, you won't get much foam. You can turn it all the way to the (-) and then dial it back a little, this produced a ton of foam.

How to get support & service?
Email the YAMATIC team to get the OEM support, replacement or refund if you have any trouble.

Tel: 626-539-9666
Email: yamaticpower@gmail.com